Havarija EP "Smrt iz korena" – recenzija
To je to! To je taj zvuk i te teme "Agonija žrtvenog jarca" direktno obraćanje slušaocu bez bilo kakve skrivene poruke i metafore. Tako moćan uvod u EP "Smrt iz korena" mladog sastava Havarija.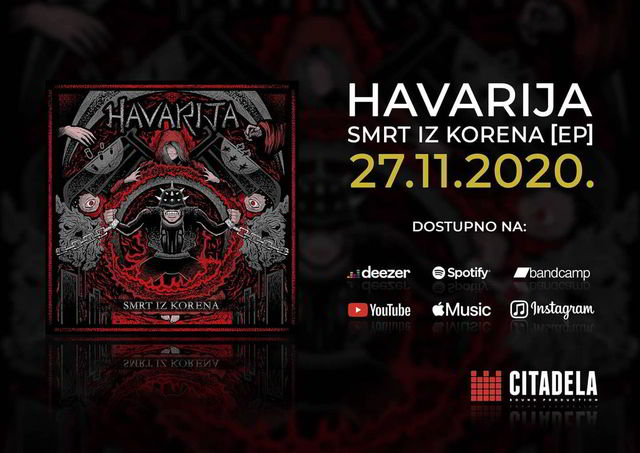 I idemooo čččdždždždž!!!!! glas iz grla koje se ne štedi i grupa mladih ljudi svesna da sve odlazi u pičku materinu.  Emocije na Šveckom stolu, tekstovi bogati, iskreno i beskompromisno i na srpskom što svakako doprinosi autentičnosti. Krljačina proširana melodičnim delovima u četiri sjajne pesme. Pored već pomenute Agonije tu je "Seroprevalencija" apokaliptična oda nesvesnosti čovečanstva u maniru "Nature strikes back". Tu je i "Otrov" prava himna za zaljubljene besne metalce uz intenzivan istovar rifova i osećanja. Na kraju lirsko epska "Glavu gore", još jedno samopreispitivačko obraćanje okolini i sozercavanje kompleksnosti sveta i života.
Ovo je kratka recenzija zato što je ovaj album u jednom dahu, kao neka dobra knjiga ili igrica koju spičite nesvesni da vreme oko vas prolazi. Havarija zabada kramponima u tvrde podloge i penje se gore bez obzira na vetrove koji duvaju.
Sve pohvale i velika podrška.
Jozo Svraka