"Serbian Underground Metal" vas poziva na Festival "Krv Do Kolena"
Kao veliki ljubitelji metala i dobrih šutki, stranica "Serbian Underground Metal" već godinu dana podržava domaću metal scenu i to treba obeležiti. A ne postoji bolji način od metal svirke.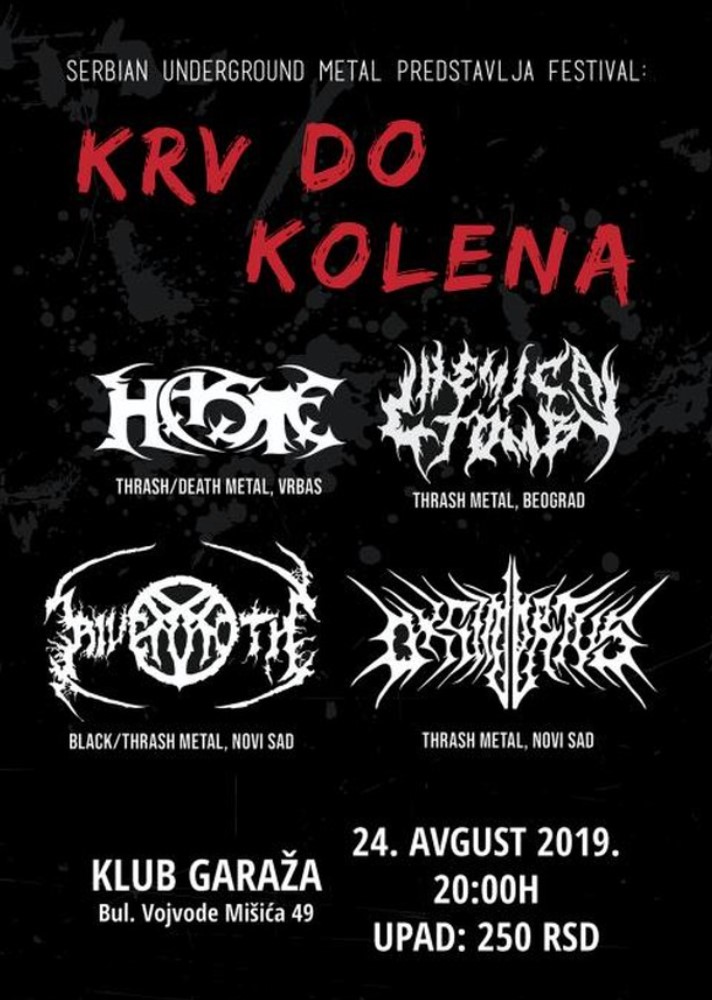 U subotu 24.avgusta nastupaće četiri benda:
Haste – Bend iz Vrbasa koji je delio binu sa velikim imenima srpske metal scene kao što su Putrid Blood, Alitor, Deathonation, Thundersteel, War Engine, Horror Piknik, First Flame, Ground Zero ali i sa stranim bendovima kao što su ruski Welicoruss i italijanski Methedrasom. Nastupali su i na "Exitu" 2019. Svoj prvi EP "Suffer is Beneath" su izbacili 2017. a trenutno nam kuvaju novi materijal. Na festivalu ce nam predstaviti novi singl "To Dwell with Darkness".
Riverroth – Novosadski black thrash metalci koji su 2018. izbacili svoj drugi EP "Manifestation of Dark Arts". Bend čiji su počeci bili u sumnjivim podrumima Novog Sada a došli su do toga da sviraju na "Exitu" 2018. kao i na "Zlo Festu" iste godine.
Chemical Tomb – Šta se dobije kad se spoje ortaci koji vole majonez i dobru rakiju? Dobije se Chemical Tomb. Prvi EP "Unsportsmanlike Conduct" izbacili su 2018. godine i do sada su imali par nastupa a jedan od njih je bio "Fest hleba i igara" sa već uveliko poznatim Prisonerom.
Oksimortus – Takođe Novosađani koji svoj thrash vole da začine kapima krvi. Za sada su pustili 2 singla "Another Drop of Blood" i "The Profane Swordsman".
Dođite da se družimo,opijamo i šutiramo.
Mesto održavanja festivala "Klub Garaža" Bul. Vojvode Mišića 49, Beograd
24. Avgust 2019. godine sa početkom u 20h
Upad: 250 DIN/2 EUR/4 BAM