Koncert grčkog alt-rok benda Deaf Radio // 10. februar // SKCNS Fabrika
Grčki alternativni rok bend Deaf Radio nastupiće 10. februara u SKCNS Fabrici, a predgrupa će biti novosadski bend Short Reports.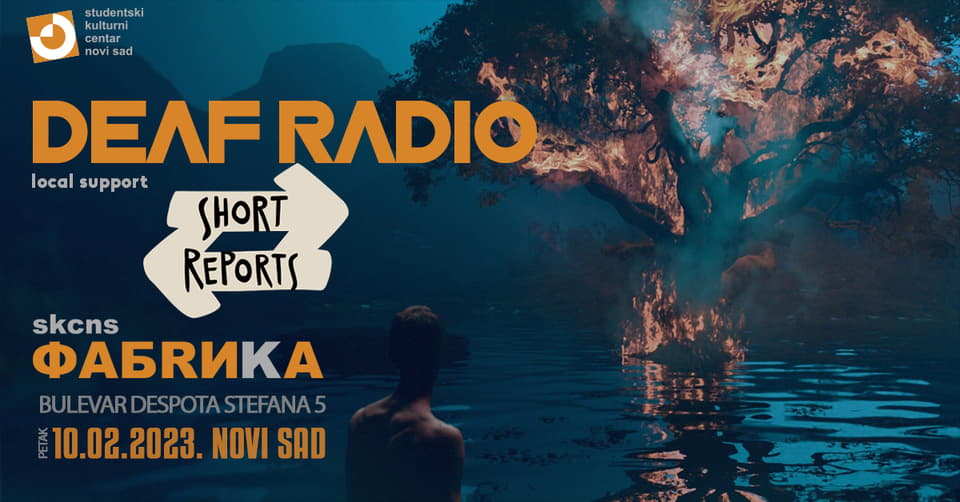 Deaf Radio je alternativni rok bend iz grčke prestonice Atine, osnovan 2015. godine.
Kako sami kažu, dok su bili mlađi, bili su fanovi panka i post-panka. No uz odrastanje došlo je i do širenja interesovanja na druge žanrove, od roka do elektro muzike, što se odrazilo i na njihov zvuk i pristup produkciji.  Debi album "Alarm", koji su objavili 2017. godine, pobrao je pohvale kritičara, a isto se desilo i sa drugim albumom, "Modern Panic" koji je izašao u novembru 2019. godine. Aktuelni album "Arsenal of Hope" objavili su u novembru prošle godine.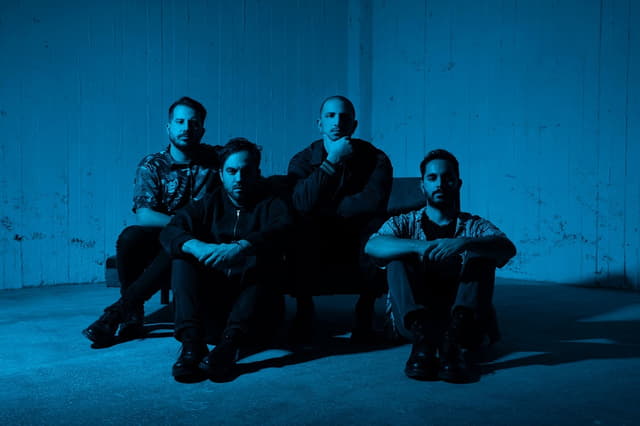 "Ovaj album objedinjuje različite uticaje, odvlačeći nas od desert/heavy roka ka više elektronskim i alt-rok stazama. Na njemu ćete pronaći sintisajzere, semplove, elektronske bubnjeve i reference u rasponu od Moderat, Jamie xx do Foals i War on Drugs. Nastao je tokom lokdauna i naterao nas je da izoštrimo svoja čula i oblikujemo svoj zreli identitet. Društvena izolacija, digitalna zavisnost i nedostatak ljudskog dodira postaju relevantniji nego ikad i čine okosnicu albuma. U muzičkom smislu, kombinovali smo čistu rok energiju sa post-disko i dens muzikom. Na njemu se mogu čuti himnični refreni, no tu je i mračnija, introvertnija strana. "Arsenal of Hope" odražava nelagodu izazvanu suočavanjem sa složenim problemima modernog društva. To putovanje može biti dugo, ali na kraju ćemo ipak početi da cvetamo. Krajnji osećaj biće oslobađajući", kažu članovi benda.
Short Reports osnovali si Feher Nikoleta (bubnjevi) i Velimirović Nemanja (gitara i glas) u oktobru 2019. u Novom Sadu. Njih dvoje čine rok duo, u kom dva instrumenta kroz minimalistički pristup ritmu i ekspresivan pristup melodijama i tekstu, prave zvučnu sliku i emociju koju njih dvoje nose u sebi. Tekstovi su na engleskom jeziku i bave se većinom univerzalnim temama o kojima uglavnom ljudi ne vole da pričaju, koje nisu svakodnevne, iako su deo svakodnevnice svakog čoveka. U novembru 2020. bend je održao prvi nastup uživo, nasuprot svim nedaćama i komplikacijama koje ovo vreme nosi sa sobom, u novosadskom klubu "Lazino Tele", a prvi album "Cats VS Dogs" objavljen je u novembru 2021. na svim digitalnim platformama. U februaru 2022. Short Reports su predstavili Novi Sad kao Evropsku prestonicu kulture u Luksemburgu (ESCH 2022. – Remix festival). Pored promocije albuma u Novom Sadu i Beogradu, tokom proleća i leta 2022. bend nastupa u 20 gradova regiona i Evrope, a kasnije tokom godine i u gradovima u Srbiji. Bend trenutno radi na drugom albumu kao i na novim video spotovima.
Ulaznice mogu da se kupe online na http://www.gigstix.com/ kao i na prodajnim mestima Gigstixa. Cena u pretprodaji iznosi 600 dinara, a dan koncerta cena ulaznice biće 800 dinara i moći će da se kupe na biletarnici Fabrike koja se otvara u 20 časova. Koncert će početi u 21 čas.