Koncert Obojenog programa, 7. maja u SKCNS Fabrici
Kultni novosadski sastav Obojeni program nastupiće u SKCNS Fabrici, u subotu, 7. maja, u 21 čas. Tokom četiri decenije sviranja, u radu benda učestvovalo je mnogo muzičara, a frontmen Branislav Babić Kebra jedini je član originalne postave. Uz njega, dugogodišnju postavu Obojenog programa čine Ilija Vlaisavljević Bebec na bas gitari, bubnjar Vladimir Cinkoski Cina, a nedavno im se pridružio i novi član, basista Miki Ristić (ex Darkwood Dub, Bella Technika, Sana Garić).
Obojeni program je 2020. godine obeležio 40 godina postojanja i 30 godina od objavljivanja prvog albuma "Najvažnije je biti zdrav".
"Da ne poveruješ… 40 godina… Mi volimo tu muziku i to je to. Naravno, nije to samo muzika, to je i estetika, to je čitava akcija, kao i svi oni ljudi koji su na razne načine bili i jesu u tome. I publika… Svašta je tu na svoj način bitno, i nama je drago što smo deo toga i verovatno zato i toliko dugo traje", izjavio je, tim povodom, Kebra za portal Nova S.
Usled pandemije koronavirusa, održavanje koncerata je bilo onemogućeno, a bend sada, nizom nastupa, nastavlja da obeležava ovaj važan jubilej i promoviše aktuelni album "2021 = 41" koji je u aprilu 2021. godine objavio "Odličan hrčak".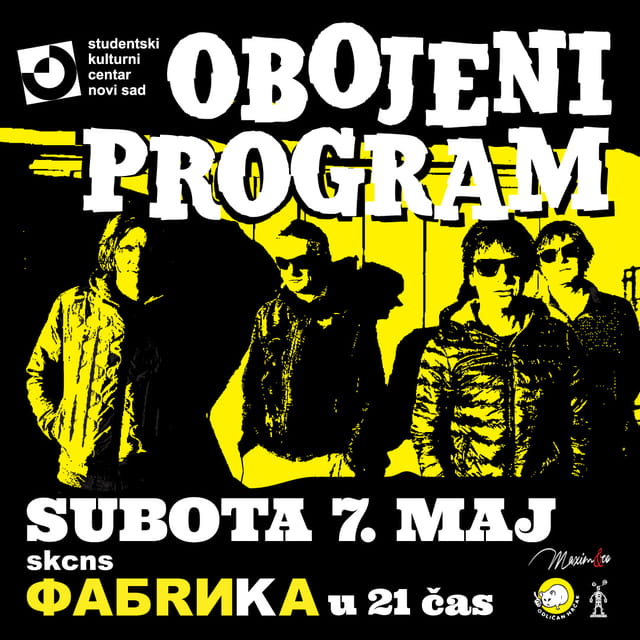 Ulaznice su u pretprodaji od četvrtka, 14. aprila, i mogu da se kupe online na http://www.gigstix.com/ kao i na prodajnim mestima Gigstixa. Early bird ulaznice koštaju 999 dinara, a regularna cena ulaznica u pretprodaji biće 1.200 dinara.
Na dan koncerta cena će iznositi 1.500 dinara a ulaznice će moći da se kupe na biletarnici Fabrike. Vrata Fabrike otvaraju se u 20 časova. Koncert će početi u 21 čas.
Koncert je organizovan uz podršku marketinške agencije Maxim&Co.