BESKRAJNA REKA KRVI Recenzija albuma Architect of pain
Svaki pravi metalac nek se raduje, počujte oj!
Architect of pain objaviše svoj prvi album. Ljubitelji krvavih bajki, uživaoci mraka i crnila, pokorni sledbenici režećeg zvuka  grlenog ropca imate se radovati čemu.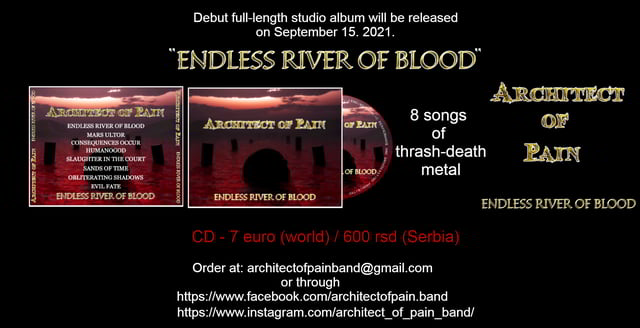 Mladi Novosadski metalci  Architect of pain na svom prvom albumu pokazuju  već odmah šta je prava metalska posvećenost kako u muzičkom tako i u tekstualnom smislu. Osam stvari konceptualno isklesane, predanim radom lepe u svojoj mračnoj kompleksnosti date na slušanje nama svima smrtnicima.
Prve dve impresije sa ovog albuma su vokal i solaže, vokal surov na tri koraka od krkljanja a solaže moćne i nekako opasne poput zvučne bodljikave žice. I na prvu loptu kad pomisliš da dominira melodično-harmonijska sekcija ustvari vidiš da prave  moći nema bez ritam sekcije, bas i bubanj poput kostiju i hrskavice drže ustvari vrlo stabilnom ovu krvavu muzičku konstrukciju.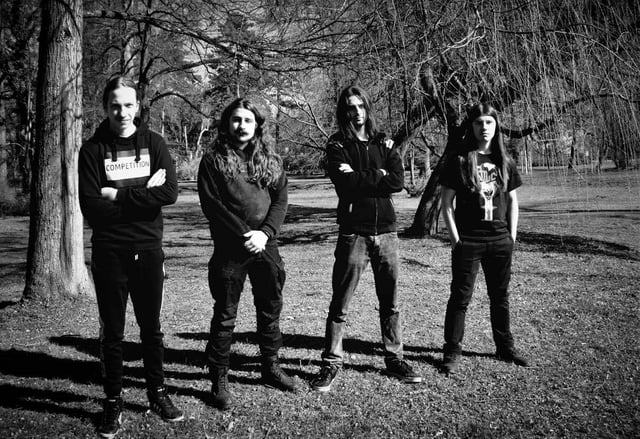 Konkretno: Uvodna "Endless River of Blood" sa sve Death-ovskim momentima  posle solaže, zatim, refren u  "Humanogod"  je tako bizarno melodičan (i neki efekat na početku na basu valjda), takođe bas intro na "Slaughter in the court " je do jaja, pored svega toga tu je sjajan skoro nostalgičan rif na strofi "Obliterating shadows". Skroz skroz dobar album mračne ali kreativnim začinima vrlo izbalansirane atmosfere. Još jedan prilično zreo plod domaće metalske scene koji ozbiljno obećava.
Svako dobro i sve čestitke za Architect of pain uz nadu da će narednom periodu uz žive promocije i dalje oživljavati smrt u svim slušaocima ovakvog zvuka.
Jozo Gavran