The Screaming Wheels predstavljaju singl "Willy The Wimp" sa njihovog budućeg debi albuma
Četvoročlana alternativna blues/rock postava iz Novigrada, The Screaming Wheels, predstavlja prvi singl "Willy The Wimp" kao najavu predstojećeg debi albuma Instramental. Nova ploča će biti objavljena 24. septembra za Rock Svirke Records. Zajedno sa pesmom stiže i propratni video čiju režiju potpisuje Danilo Caković (Vid Film) gde muzika koketira sa pankom i vokalno podseća na Zappu-u i Captain Beefheart-a, a možete ga pogedati ovde.
"Ova pesma govori o slobodi odlučivanja i poziva na slobodu uopće", poručuju iz benda. Produkciju pesme, snimljenu u novigradskom bioskopu i zagrebačkom Sound Station studiju, zajedničkim snagama uradili su Leo Anđelković (Baltazar, Norman Beaker Trio) i Denis Makin (Vervet). Leo je bio zadužen za mastering, dok je miks uradio Tom Beuchel u njujorškom Flux studiju.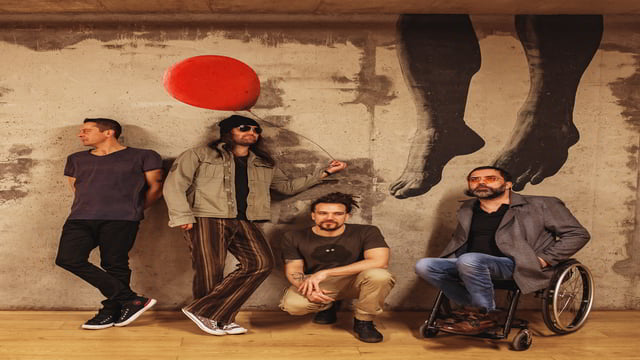 Grupa The Screaming Wheels osnovana je u septembru 2018. godine, baš pre učešća na desetom Croatian Blues Challenge-u, takmičenju koje je održano novembra iste godine u Puli. Tamo su pobedili u kategoriji najbolji "Solo/Duo" izvođač, a u januaru 2019. predstavljali su Hrvatsku na 35. International Blues Challenge-u u Memfisu. Kritika i publika tada ih je proglašavala "hrvatskom senzacijom". Denis i Leo su prijatelji iz detinjstva i sarađivali su u brojnim bendovima i muzičkim projektima, tako da je formiranje zajedničkog sastava bio logičan potez. Odlučili su da ne nastupaju kao duo, već da prošire bend, te pored njih dvojice postavu čine još i basista Danijel Teodorović i bubnjar Erle Đurđević.