Dva paprena eventa u DANĐN-u do kraja meseca!
Heavy Metal večer s Guitar Force (Poljska) – Osijek 23/11/19
Subotu paprimo s još jednom heavy metal poslasticom – Guitar Force! Poljski hevijaneri zapalit će atmosferu u DANĐN-u, a na šanku vrtimo heavy metal classics.
Slušaona 21:00h – Guitar Force 23:00h – upad/donacija 15kn
Guitar Force has been founded by Marcin Habaj – a guitarist, composer and lyrics author back in 2007. It consists of 5 young people from south – eastern Poland and music style oscilates around hard rock andheavy metal. It's achievements includes an album "Do przodu" (2010, English titled "Forward"), a single "Magia Snu" (2012, English titled "The Magic Of The Dream"), a compilation "Musicians for Amelka"(2013), album "Dwa Światy" (2013, English titled "Two Worlds") and EP album in Polish and English – titled "Na Koniec Świata Świata" / "To The End Of The World" (2015).
G
There were also three professionally recorded music videos which were played on TV numerous times. One of these was released also in English. Guitar Force is a laureate of several national contests and festivals. The tracks promoting first and second albums have been ranked No 1 in Rdio Rzeszow Charts. "Dwa Swiaty" album has been nominated in Radio Rzeszow contest as the best album of 2013 from Podkarpacie and finished second in listeners votes contest. The "Nurt" track finished in the top 300 bands of the internet casting to "Must Be The Music". The band gave almost 200 performances in Poland and other countries.
In March 2016 Guitar Force has signed an international promotional contract that includes European concert tour with Hammer and Tongs – Tour and Promotion Agency In July 2016 band has signed an international contract with Inverse Records from Finland, which released LP Album "Different Universe" in September 2016.
---
Psyckadeli (Švedska) – Osijek 28/11/19
Četvrtak paprimo s dozom psihodelije! U goste nam stiže švedski kvartet Psyckadeli iz Kristianstada i osim zime donijet će nam uvrnuti stil hard rock i electro synth. Bend na vokalu predvodi Tina Pries uz Max Haze na gitari, Hamp the Vamp na synth i bass gitari, te bubnjar Mike Strike.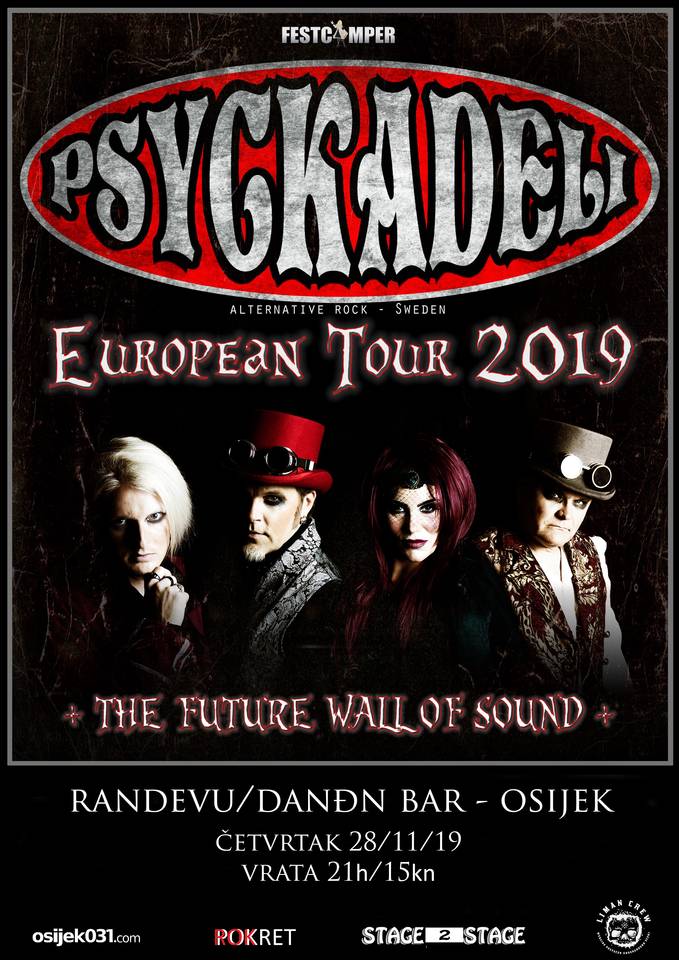 Topla atmosfera uz hladni vopi i psihodeliju na šanku – samo u Randevu/DANĐN Baru. Vrata 21:00h – upad/donacija 15kn