Subotički spektakl – Halloween Massacre vol. VI
Dana 02.11.2019. u renomiranom subotičkom punk-rock-metal-hc klubu Mladost održaće se šesti po redu Halloween Massacre.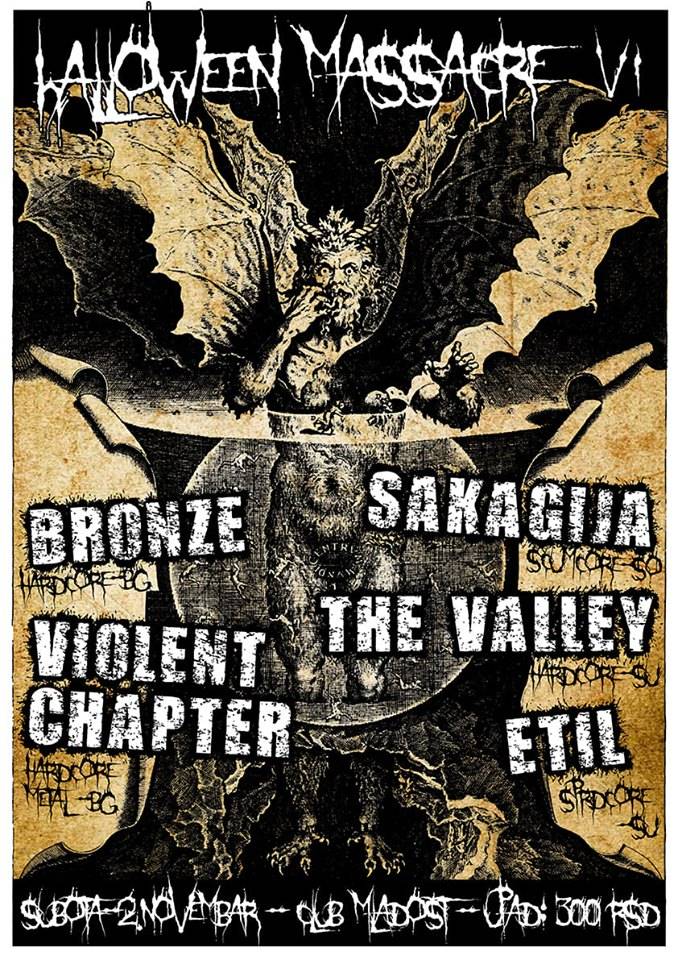 Kao i svake godine tako i ove obavezno doći sa pozitivnom energijom i dobrim raspoloženjem, jer dobra publika uvek dobije dobre bendove!
Nastupiće:
Sakagija (Sombor) – poznatiji kao Scumcore ekipa iz Sombora, uvek u dobrom raspoloženju i željni dobrog provoda i svirke.
Etil (Subotica) – sprdcore ekipa sa brzim rifovima, agresivnim bubnjevima i humorističkim tekstovima i nabije osmehe zadovoljstva ljudima.
Violent Chapter (Beograd) – o ovim ljudima ne treba puno pričati, njihov rad i trud je dovoljno pokazao gde im je mesto na regionalnoj hc/metal sceni.
The Valley (Subotica) – domaćini ovog eventa. Iza sebe imaju gomile nastupa, odlični kao gosti, a pokazali se kao još bolji kao domaćini na svrikama i  Halloween Massacre organizaciji.
Bronze (Beograd) – hardcore bend karakterističan preplitanjem new and old hc school i metala  u svojim pesmama. Svirali širom regiona i planiraju izlet po zapadnoj evropi!
Upad je samo 300 dinara i svojim doprinosom pomažete daljem radu underground scene!