Lomljenje Metalom OA Warm Up // Scyther + Dust – Osijek 20/6/19
Zagrejavanje za nadolazeće Lomljenje Metalom Open Air palimo u DANĐN-u 🔥Rock Tour Agency dovodi nam u goste talijanske thrash metalce Scyther i Dust u sklopu Blinded tour 2019.
Ne propustite večer trešerije, vrato-loma i hladnog piva po cenera 🍻
Upad/donacija 20kn
Podrži metalurgiju 🤘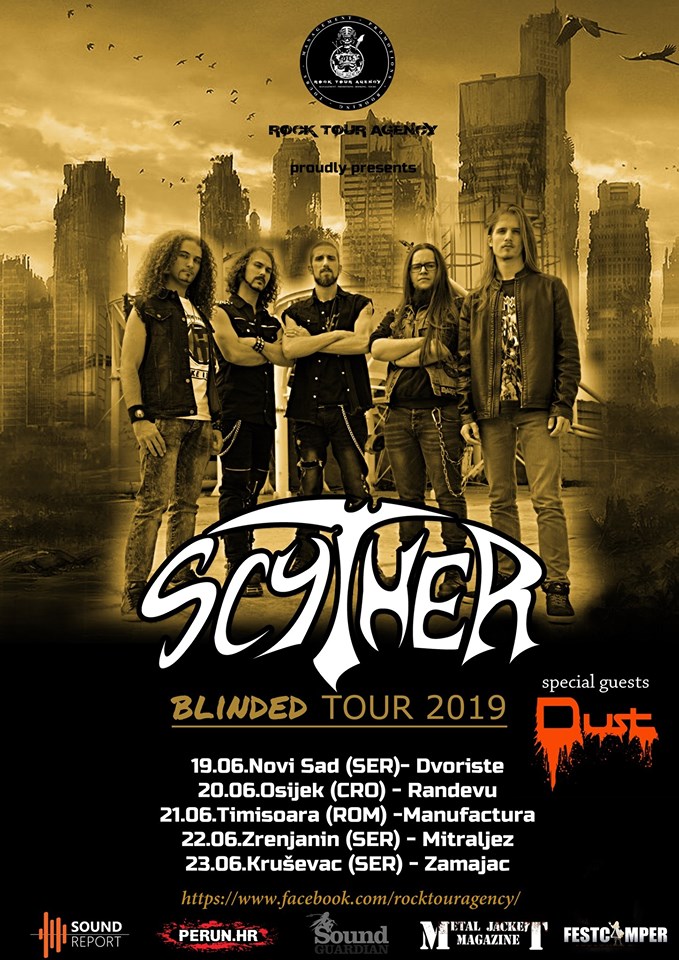 Scyther was founded in December 2013 and plays thrash metal inspired by classic heavy and thrash metal bands: Metallica – Anthrax – Megadeth – Slayer – Lamb of God – Pantera. Their songs are  characterized by dark and heavy sound with fast rhythms on the drum and furious guitar riffs. The band recorded its first EP 2017/2018. EP "Blinded" deals mainly with issues such as injustice and discrimination. In the summer of 2018, after winning the music contest, the band signed for Heart of Steel Records (a subsidiary of the largest DeFox Record) and from September 15th "Blinded" is available for purchase at major online platforms.
——————————————————————————————————————————————————-
Dust is a five piece metal band born in 2016 and based in Turin (Italy). Their inspiration comes from the Kings of the metal, the one who shaped their music taste throughout the years; Pantera, Megadeth and Metallica and others. The band also decided to mix the old thrashy/groovy style with more modern sound of bands like Trivium, Jinjer, Lamb of God, to find their personal artistic way. First full-lenght album "Break the Silence" (composed by eight original pieces) will be available by the month of June, 2019. Most of their songs are characterized by fast rhythm parts, melodic solos and a heavy drum tones.