Interesantan vikend u Novom Sadu i Bečeju
Zrenjaniska okupacija na početku koncertne sezone CK13!
Neke Face su rokenrol bend sa primesama ska muzike, iz Zrenjanina. Nastali su spontanim okupljanjem na jesen 2006. godine i od tada nisu izdali nijedan album i nisu snimili nijedan spot. Živi nastupi su zato jedinstvena prilika da ih čujete i osetite nesvakidašnju energiju pretočenu u lake note i akorde. Njihov moto je "Samo hitovi", tako da ne propustite da zajedno sa njima zapevate i rukama u ritmu zapljeskate.
https://nekeface.bandcamp.com/releases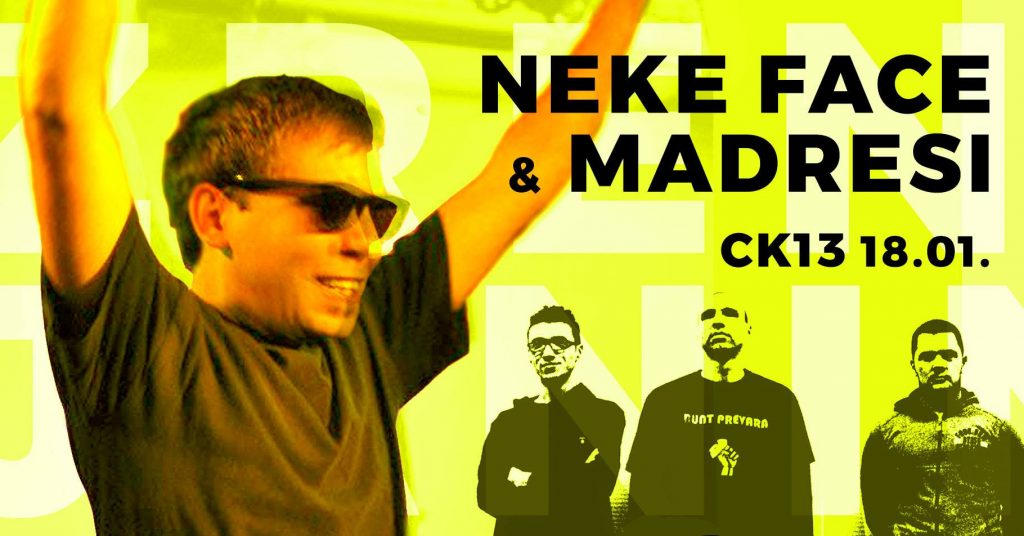 Madresi su zrenjaninski rock and roll/punk bend nastao 2008. godine. Bend se u početku zvao Madres Egoistas po jednoj meksičkoj sapunici što je predstavljalo sprdnju sa tim vidom zaglupljivanja naroda, da bi kasnije promenio (modifikovao) naziv u Madresi.
https://www.youtube.com/user/MrMex1234
http://madresi.weebly.com/
Cena karte za ovaj koncert biće 250 dinara. Kupovinom karata za koncerte u CK13 podržavate izvođače i nezavisnu muzičku scenu.
---
Mi smo odlucili da započnemo ovu godinu na pravi način, tako što ćemo se sudariti sa još dve metal SILE 19.01 u CK13!!  Možemo vam garantovati samo dobro zezanje, jake batine i tvrd metal što je realno i dosta od nas..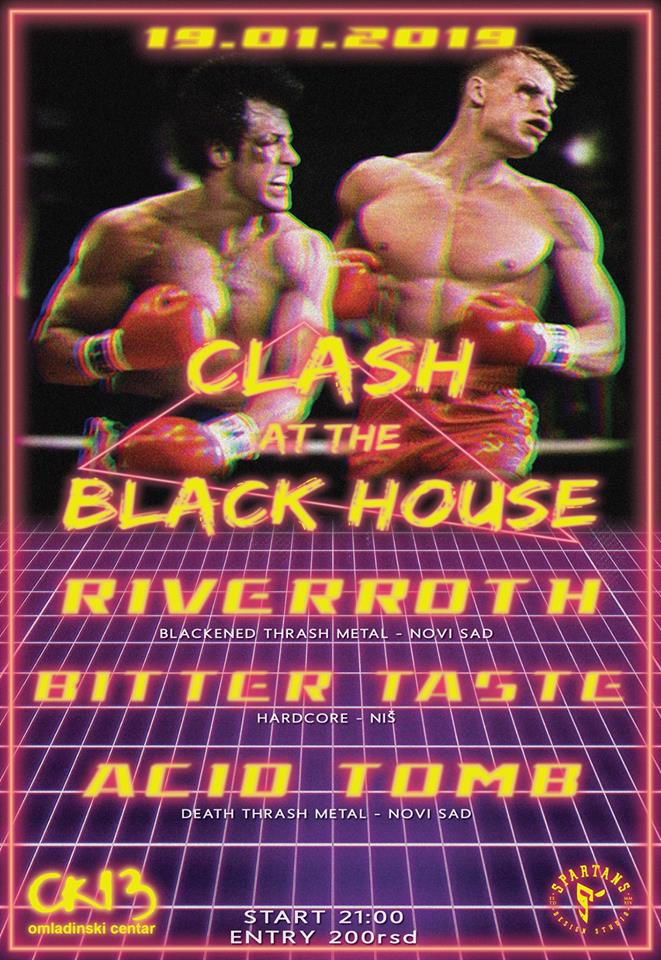 – RIVERROTH – BLACK THRASH BANDA
https://www.facebook.com/Riverroth/
https://www.youtube.com/channel/UCvl8vVWc8g1BPJgl8MTDZrw
https://riverroth.bandcamp.com/
https://www.instagram.com/riverroth_serbia/
– BITTER TASTE – HC SLAM NIS BRE
https://www.facebook.com/BitterTasteSrbija/
https://www.youtube.com/channel/UCEK1j2IsBUhOnHJwA-sQBfg
– ACID TOMB – NS THRASH OMLADINA
https://www.facebook.com/Acid-Tomb-418317178699729/
https://www.instagram.com/acidtombofficial/
Upad – 200 djuntaresa
SEE YA IN THE PIT!!
---
U subotu 19. januara u Zombi club u Bečeju prvi put dolaze subotički hardcore sastav The Valley i novosadski melodic hardcore/punk bend FIRST FLAME. Ulaz će biti 150 dinara.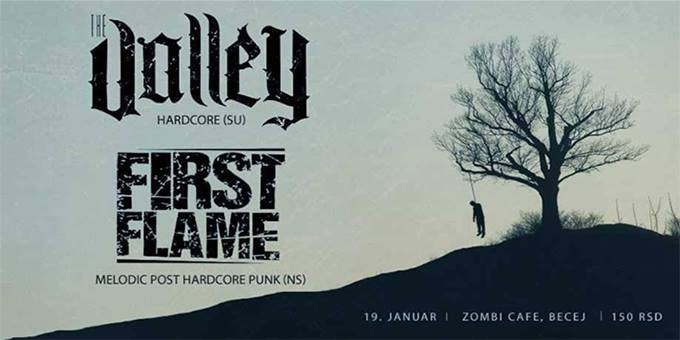 ---
GOSPODIN GORKI (Osijek, CRO) –
https://www.facebook.com/gospodin.gorki/
————————————————
– Post-punk / New Wave –
Gospodin Gorki je osječka post-punk/new wave trojka.
Bend postoji od 2017. godine te je izbacio dva singla za debitantski album "Gutljaj utjehe" koji je u procesu snimanja.
Zvuk benda možemo opisati kroz umorne gitarske dionice i snažne bas linije, sve zajedno obojane paletom šarolikih gitarskih i bas efekata, upotpunjene repetirajućim bubnjem te mješavinom surovog i polaganog pjevanja.
Tematike pjesama možemo svrstati pod romantizam; osobna preokupacija, osjećaji nasuprot razuma te isticanje pjesničke slobode i odbacivanje klasične strukture pjesama.
Osim klupskih svirki, bend je nastupio na festivalu Omladina u Subotici.

članovi:
– Ivan Đunđa – bas i glas
– Hrvoje Majetić – gitara i drugi glas
– Tomislav Jantoš – bubanj
upad 200 dinara